Our roll-off dumpsters are perfect for home or commercial use. Usually available within 24 hours, please call for pricing and delivery.
Heavy commercial waste
Construction
Landscaping
Home remodel
Roofing
Much, much more...
---
10 Yard Dumpster
Our smallest trash and garbage dumpster is perfect for homeowners, smaller construction jobs, or events. It is our only fully enclosed dumpster with locking lids, so you can ensure that only your trash ends up getting hauled. Measurements: 8' wide, 10' long and 4' high, with lids. 5 ton maximum capacity.
Lockable lids prevent unauthorized trash and garbage dumping
Perfect for event garbage and cleanup
Homeowners and Neighborhoods associations
4 foot sides for ease of use
---
20 Yard Dumpster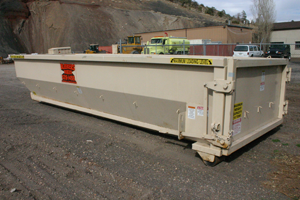 This full-sized roll-off dumpster features sides that are just high enough for easy over-the-side loading by hand. This dumpster is also recommended for jobs where dirt and/or concrete are being hauled off. Specifications: 8' wide, 22' long, 4' high. 10 tons maximum capacity.
Low sides for easy loading
Heavy-duty for concrete / rocks / dirt
Perfect for landscape crews
---
30 Yard Dumpster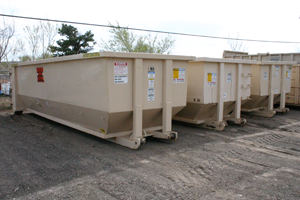 Our second-largest dumpster is perfect for a wide variety of jobs with a substantial storage capacity, yet low enough sides to load by hand or with skid-steer equipment. Specifications: 8' wide, 22' long, 6' high. 10 tons maximum capacity.
Roofing
Construction
Hotels and Motels
Retail
Large Events
---
40 Yard Dumpster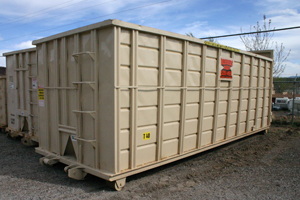 The very largest roll off dumpster available. This huge dumpster features full-size doors on one end for walk-in loading and ladders on the other end. Specifications: 8' wide, 22' long, 8' high. 10 tons maximum capacity.
Roofing
Construction
Hotels and Motels
Retail